Who will be exhibiting at the Edinburgh Coffee Festival?
The Festival will feature approximately 40 handpicked suppliers.
These roasters, brewers, baristas, coffee making equipment suppliers and coffee bar owners are enthusiastic and passionate about their products and so visitors can expect to gain a wealth of knowledge and insight in to the world's coffee and tea industry as well as the industry closer to home in Scotland.
We will also welcome tea and chocolate merchants and other independent vendors, making for a fantastic all round day out for foodies as well as coffee lovers.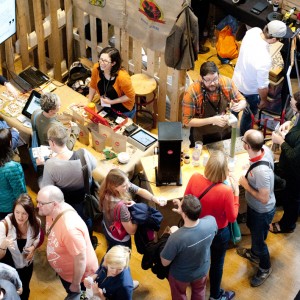 Would you like to exhibit at the Edinburgh Coffee Festival in 2017?
The Edinburgh Coffee Festival will provide the perfect platform for companies who wish to promote their products to an Edinburgh and indeed a Scottish audience.
As organisers we will be doing everything we can to create the perfect environment to bring suppliers and customers together in an atmosphere that encourages interaction and the opportunity to engage with consumers.
We are already very encouraged by the levels of interest from both visitors and potential exhibitors and would love to hear from you if you would like to be a part of the Festival.
To find out more about the opportunities to exhibit at the Edinburgh Coffee Festival, including prices, please complete and submit the contact form or call the team on 0131 333 0969.