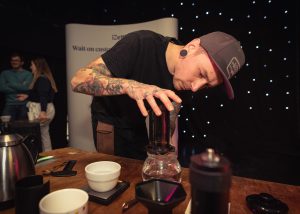 Join David Bernard, Union Brew Lab's Head of Training for a Coffee Brewing Masterclass at this years Edinburgh Coffee Festival.
The Aeropress is one of the most popular brew methods amongst coffee enthusiasts and is the travel brewer of choice for many, but with so many recipes and techniques to choose from it can be a little bit daunting. In this demonstration, we'll look at some best-practice techniques and general coffee brewing tips to get the most from your Aeropress.
This free masterclass will take place 1.30pm in the Demo and Cupping Room.